When you're a big fan of two of the most influential artists of the 20th century (and perhaps all time?) you start reading too much into their similarities.
Maybe it's wishful thinking, but there are many things that I think are too coincidental with the link between David Bowie and Jacques Brel than can be purely chalked up to chance…
But did glam rock's great imitator and innovator take a pinch of French chanson into his repertoire?
What we do know for a fact is that David Bowie was introduced to the music of Jacques Brel through the cover versions recorded in the 1960s by Scott Walker, and through watching a performance of the juke box musical Jacques Brel is Alive and Well and Living in Paris in the 1960s. Bowie himself went on to record covers of two Jacques Brel songs in the 1970s, and performed them on and off between the late 1960s and the early 2000s.
These songs were the Grand Prix du Disque winning 'Amsterdam' – a swelling and dramatic waltz about the sailors in the port of Amsterdam, and 'My Death' – originally a fast march entitled 'La Mort'.
David Bowie liked Jacques Brel's 'Amsterdam' so much it is rumoured that he intended to release it on the Rise and Fall of Ziggy Stardust and the Spiders From Mars before finally shunning the song in favour of another cover – 'It Ain't Easy'. This might not exactly be true as the song appeared later on the B side of the hit single "Sorrow" and it's likely it was recorded during the Pin Ups sessions.
Nonetheless, Bowie included 'Amsterdam' in his sessions for the BBC, and it was a regular feature in his early 1970s live sets before being replaced with 'My Death'.
'My Death' is a song Bowie covered during the popular live bootleg recorded at Santa Monica Civic Auditorium in 1972, and the iconic 1973 final Ziggy Stardust concert at the Hammersmith Odeon. In the 90s it was featured regularly in his live performances and in 1997 he chose to perform an eight-minute version of it live at the GQ Awards.
What is most interesting about Bowie's version of this song is that the rejects Scott Walker's translation in favour of Rod McKuen's, however the lyrics used are dramatically different to the original. You can read my more accurate translation here.
This shows that Bowie was researching the origins of the song, which would no doubt lead him straight to Jacques Brel.
In his later career, Bowie's lyrics would pay direct homage to Brel's influence. On 2003's 'Reality', Bowie reminisces about his 1970s career, noting that Brel's 'My Death' is "more than just a sad song". Interestingly, the cover of the Bowie album of the same name features Bowie dressed in a black suit with a black tie – reminiscent of Brel's usual performance attire.
And the similarities don't end there…
Both Jacques Brel and David Bowie were intense performers and had an eye for a compelling on-stage persona.
Brel would become the characters in his tragic songs, his performances often leaving him in tears. Before many others, and certainly before Bowie, Jacques started using props in his performances – even performing the song 'Le Pendu' ('The Hanged Man') with a noose tied around his neck and virtually suspended from the rafters.
What is most similar, however, is Jacques Brel's decision to retire from singing live at the height of his career.
Despite protestations and the fact that several translations of his songs were in the charts around the globe Brel retired from singing after one final concert in Roubaix, France. This was echoed by David Bowie's decision to retire Ziggy Stardust at the height of the character's popularity. As well as the nod to Brel by including 'My Death' in the setlist, Bowie's set contained another nod to the Belgian singer – the song 'Rock 'n' Roll Suicide'…
What does 'Rock 'n' Roll Suicide' have to do with Jacques Brel?
Apart from the Brelian crescendo, the lyrics are said to have been inspired by a translation of the Jacques Brel song 'Jef' from the musical Jacques Brel is Alive and Well and Living in Paris – 'No, Love, You're Not Alone'.
Later in 1973, legend states that David Bowie tried to arrange to meet Jacques Brel in Paris, but the Belgian refused – "Why would a homosexual think that I would like to meet him?" he is said to have questioned. Though this has little evidence to support it, it was reported in more than one French magazine at the time – and it would be in character for Bowie, who had by 1973 met and recorded with two of his other musical idols: Iggy Pop and Lou Reed.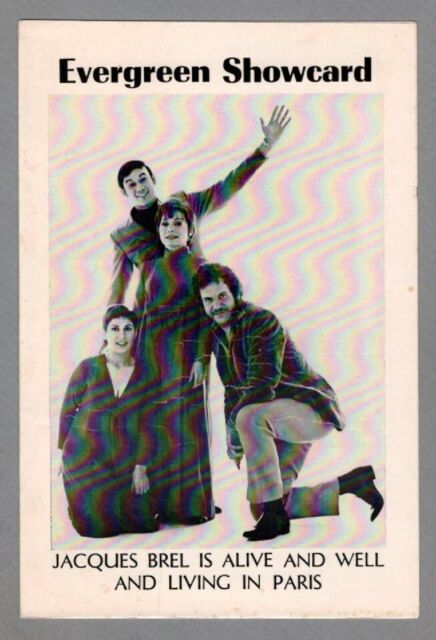 When questioned about the David Live album of the following year, Bowie remarked that the album should have been titled: David Bowie is Alive and Well and Only Living in Theory. Bowie later went on to release a live album of Earthling and Hours era live recordings under the title Live And Well as one of the first online-exclusive releases by a major recording artist.
'Rock 'n' Roll Suicide' isn't the only David Bowie song that borrows elements from Jacques Brel. I'm constantly hearing David Bowie lyrics that sound familiar and, upon researching them, find them hidden way in an obscure Jacques Brel song.
Take, for example, 'Sons of the Silent Age' from '"Heroes…"' – not only is the title and theme reminiscent of Jacques Brel's 'Fils De…' ('Sons Of…'), but the line "They never die, just go to sleep one day" is a direct translation from Brel's 'Les Vieux' ('The Old'): "the old they never die, they just go to sleep one day – and sleep too long."
Similarly, both recorded a retrospective album that updated some of their older songs, although Bowie's Toy was never really released.
Perhaps the most obscure reference that David Bowie made to Jacques Brel came in the year of Brel's death – his recording of Tchaikovsky's Peter and the Wolf, which came nearly ten years after Brel recorded his own version.
In 2000, when Bowie headlined Glastonbury Festival, he included a subtle nod to Brel that went mostly unnoticed. Rather than include a Brel cover or one of the songs with direct links to the chansonnier, Bowie instructed his pianist to play a jazz version of the song 'Greensleeves' before the band took to the stage. 'Greensleeves', similar in structure to the Brel song 'Amsterdam', was frequently used by Brel as walk-on music, most famously in his final run of shows in 1966 and 1967.
What I find perhaps the most compelling similarity, however, is the artists' self-imposed hiatus from recording new music – a period that lasted a decade for both artists – which was then followed by a top-secret new album that catapulted them back into the limelight and the top of the charts. Both The Next Day and Les Marquises contain songs that are nostalgic and reminisce about the artists' past music, and both albums perfectly sum up the singers' careers. These albums were also the first albums not to feature the singer's face on the cover. Brel died of cancer following the album's release.
Knowing the links between Bowie and Brel, after the release of The Next Day and having heard interviews with producer Tony Visconti in which Bowie was claimed to have said that he wouldn't return to music unless he had created something really good, I began wondering whether this return signified something deeper than Bowie just releasing another album.
I remember a conversation I had with a friend about the records where I speculated that Bowie was not well, hence why he was taking inspiration from Brel once again in releasing music after such a long hiatus. This theory seemed to be proven wrong with the announcement of Blackstar – but as we now know, this is not the case. The Blackstar, like The Next Day, saw bowie revisiting themes and sounds from his past – much like how Brel did for his own final release.
There are many more similarities I could mention – but I don't want this post to be too exhaustive!
What do you think? Is there more of a connection or is it all just coincidence? Let me know in the comments section, and don't forget to check out my English-language cover versions below!